1st Mariner Arena Tickets
Check out upcoming events, concerts, sports events and more at 1st Mariner Arena in Baltimore, MD. 1st Mariner Arena in Baltimore, MD has many great concerts and events for 2016 and 2017. view upcoming 1st Mariner Arena concerts and events on the 1st Mariner Arena event schedule below. See the hottest events coming to Baltimore.
Directions:95 to 395 (Downtown)
Baltimore arena is three blocks ahead on the right, at the end of 395.
Parking:There are paylots as well as street parking.
Box Office Info:410-347-2010Rules:10:00AM - 5:30PM.....Mon-Sat
2 hours before event on Sundays.
**On event Days the Box Office is open until 1 hour after the event starts.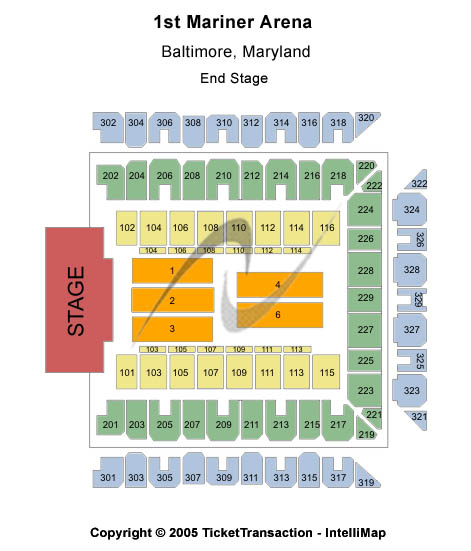 If you're going to visit Baltimore, MD be sure to check out
1st Mariner Arena schedule
for 1st Mariner Arena tickets first .
Baltimore, MD
is a great place to visit to see events. Just stop over at the 1st Mariner Arena to see whats going on. Buy your
1st Mariner Arena Baltimore tickets
for Baltimore, MD on TicketsMore and save. TicketsMore has great deals for Baltimore, MD 1st Mariner Arena tickets.